Something waits below the mundane of taking the kids to school, heading to the gym, sitting at a desk wishing you were home—do you see it? It's called purpose. Sometimes you must search for the intention behind the action, but I assure you, it's there.
For me it's as though a Mack truck pulls into my driveway and blasts, "Can you hear me now," because more often than not, I'm too busy to listen.
Shhhhhhhhhhhhhhhhhhhhhhhhhhhhhhhhhhhhhhhhhhhhhhhhhhhhhhhhhhhhhhhhhhh.
It's so much easier when you stop and listen.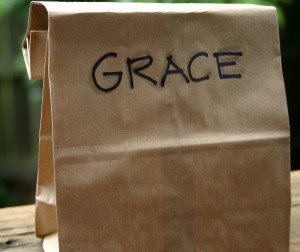 Eli forgot his lunch last week. I didn't notice the bag in the refrigerator until he called at 10:55 asking if I would bring it to him. There's no chance he would buy what the cafeteria passes off as food, and neither would I expect him to eat it.
But I was in the middle of seeing the handyman off to Home Depot to get a few supplies for the house when the phone rang. Mr. Handyman was kind (and quite the talker), which made it difficult to pull myself away.
I finally cut him off mid-sentence to say it was urgent that I leave immediately—no time to explain. I knew that if I didn't, Eli's lunch period would be over; that quiver in his voice said he was hungry. I would break every speed limit to get to him in time.
Before you tell me how I should have handled this request, I assure you this was not intended to be a lesson in Good Parenting 101. Purpose was waiting. So carrying a brown paper sack, at the intersection of Edmondson Pike and Old Hickory Boulevard, I listened.
To understand what I'm saying, answer this: What was the last thing you asked God for? I bet most will say something tangible like a paycheck (or a bigger paycheck).
The childless may say…a child.
Those who are single may whisper…someone to spend the rest of my life with.
For some…a new home.
Others…groceries.
The sick may say…a good report from the doctor.
The more we ask for things, the more I wonder if God simply hears our requests as, "Susan needs provision. Jim needs sustenance. Cynthia needs healing. Allison and Michael need peace." Perhaps He goes beyond our tangible requests to offer what we can't physically hold in our hands.
But first, I know what you're going to say because I've said it before. "If He answers our prayers, then where's the baby I've been praying for?" Or, "I haven't even been asked on a date and He's know how badly I want to be married." Or, "My cupboards are bare. I need food." The truth is, I really wish I had all the answers, or at least knew someone who could give them to you. What I do know is this: when we ask something in His name, His plan—which is far greater than what we could ever dream—perfects itself, but in His time.
Eli calling and me rushing to him made me think of it like this. Imagine you are in need. You pick up the phone and dial 1-800-I-Need-You-Jesus. He answers. He hears your cry, stops what He's doing, and rushes to you. When He shows up, He is carrying a brown paper bag. You assume it's exactly what you asked for. You open it and are a bit surprised at first. It's not a baby. Nor a winning lottery ticket. Not even the clean bill of health you prayed for.
Then what's in there that He rushed over to give you?
How about the exact measure of GRACE for today's situation? STRENGTH to carry you through infertility until the baby He intends for you is born. PEACE that He will take care of you, even if you never get a ring on your finger. COURAGE to help you face your sickness with determination and confidence. 
Does it make sense?
That day was a lesson for me. Normally I would have rolled my eyes and been frustrated that I had to drop what I was doing and take a sack lunch to my son. But it was different this time because I allowed God to show me a much greater purpose.
Here's my advice to you:
Shhhhhhhhhhhhhhhhhhhhhhhhhhhhhhhhhhhhhhhhhhhhhhhhhhhhhhhhhhhhhhhhhhh.
It's so much easier when you stop and listen. What's He telling you?
"I don't think the way you think. The way you work isn't the way I work." (God's Decree.) "For as the sky soars high above earth, so the way I work surpasses the way you work, and the way I think is beyond the way you think. Just as rain and snow descend from the skies and don't go back until they've watered the earth, Doing their work of making things grow and blossom, producing seed for farmers and food for the hungry, So will the words that come out of my mouth not come back empty-handed. They'll do the work I sent them to do, they'll complete the assignment I gave them." Isaiah 55:8-11, The Message