The kitchen holds memories for me–I have my mom to thank for that. I remember walking in from school to something on the stove bubbling underneath the lid of the Salad Master pot that clanked incessantly with it's ding-ding-ding-ding-ding. It ensured all was well in my world. It's those smells that reignite memories and I hope I've passed the same down to my kids. I wish I knew the aroma that hangs in my memory because I'd reproduce it every week. Maybe beef stew, rich and brothy with airy dumplings, or mashed potatoes ready to be mixed with a stick of butter and whole milk, maybe her chocolate chip cookies made with shortening, not butter, crispy throughout.
Now that I've been around the kitchen a lot longer, I realize that cooking alone isn't fun. My kitchen isn't all that large, but it's the best part of our remodel in our dated home. I don't have tons of counter space, but I love standing at my sink and being face to face with whoever's sitting on a barstool drinking a latte or glass of wine. I like company when I stir the gravy, or mix the butter and sugar because that's when laughter and a lot of loud talking ensues (especially when my cousin Josh is sitting on the third barstool from the right).
I had an idea when I went home for my dad's 80th birthday in January. I arranged for my Aunt Joyce to take me to our cousin's house. I wanted to immerse myself in my family's Sicilian culture, perhaps to stave off the guilt that I'd turned my back on the old, thinking it would always be there when I was ready. After my grandmother died in 1999, and years later my grandfather, I realized how much I missed out on. Maybe it's my age, tired of the push and pull of staying current, of competing with each other for success in the here and now. I wanted to be reminded of where I came from, and to experience my grandmother's recipe that she would have loved to teach me, but I was too busy to ask about.
"Let's go to Nina's and make those cookies like Grandma always made at Christmas." Of course I could follow a recipe from Pinterest but what fun would that be?
The last time I saw Nina was at our family reunion in 2019. I wanted to see her again because she reminds me of of my grandmother; soft spoken, soft hands, soft words that come from her mouth.
Nina's face is smooth, the wrinkles almost non-existent. She's 81 and doesn't look it. She greets us when we drive up to her front door with a big hug and a "Nice to see you, Honey," spoken with great intention. Her house is old, been in her family since the beginning, and creaks when you walk across the floor. There's a fire going in the wood-burning stove which we laugh about. Back home in Wyoming we'd be reveling in what feels like summer. My Florida relatives love that there's a chill in the air and a reason to wear Uggs and burn a fire. The warm crackle makes the house cozy as we head to the kitchen which is right off the room where the fire rages.
Nina already had the supplies arranged on her butcher-block–eggs, flour, sugar, a splash of Brandy.  She handed me a faded 3×5 card that looked like it was typed on a Remington, heavy with oil splatter that held many stories.  Una buona mamma vale cento maestre.
I remember my grandmother making these cookies on special occasions. We'd oooh and ahhh over them the minute we walked into her kitchen. I never asked how long she rolled and shaped the dough, what kind of oil she dipped them in, or how she coated them perfectly with powdered sugar that left a trail wherever the cookies went. Now with Nina more than happy to pass on the family recipe, I felt like I was with my precious grandmother in some small way, as though it was her calling me Honey and patting me gently in the small of my back.
Before going any further, Nina asked, "Would you like an apron, Honey?" She offers me the one with a red and green map of Italy on it that I tie around my waist with giggly excitement–I love aprons. (I make two mental notes: to search for more vintage aprons, and to display them like Nina does…on a nail hammered into the wall, where anyone can grab them easily.)
After mixing our ingredients and rolling them all together, Nina took the dough from the bowl. Her hands didn't hesitate the minute they hit the ball, working by rote, talking me through each step. Was it silly for me to show up wanting a lesson in making Italian cookies, I ask myself? What's so important that I insisted on coming here today? Because I want to tell my grandson one day, "I made these cookies with your great Aunt Joyce and my cousin, Nina." I want to share the stories we told, like when Aunt Jo taught Nina and Joyce how to make ravioli, and how she did it so quickly they didn't have the chance to see how she did it. Stories of Nina's girls, my cugine, and remembering the birthday parties we shared when we were young. I want to laugh the same way with Hendrix when I coach his tiny hands as he and I press the dough out one day.
Once the dough was rolled into a thin sheet on the counter, Nina took the stainless steel Fattigmann cutter and zig zagged her way across the dough. I studied the cookie cutter closely realizing I'd seen my grandmother's over the years but never knew what it was for. Then we crossed the individual pieces of dough over, folded one side in, and gave it a final stretch before dropping it into the hot oil.
(Third note to self: order cookie cutter ASAP.)
Then we plopped the cookie dough into the cast iron pan that was bubbling with oil, six or eight at a time. Aunt Joyce was in charge of making sure they browned just right, then laying them on a grocery bag to drip dry.
The final step when they cooled was to put them into a brown paper bag, shake them up like a good Taylor Swift song, and let the powdered sugar fall where it may. What came out was a crispy cookie, laced with sugar, that tasted like every Christmas I ever remember.
We made a cheer to our success and fun, and I left Nina's with promises of keeping in touch and seeing each other sooner than later. I left full, not just in my stomach from munching on too many cookies, but in my heart at the reminder of how important family is.
Something special happens in the kitchen when you cook with family. After my cookie adventure in January, my mind has started pulsing with ways to connect with my parents, my sisters, my aunts, my cousins, my kids and my friends in the kitchen before more time gets away. I encourage you to do the same. Who knows, maybe I'll come to your house next and we can cook up something special. No matter the recipe, I can promise we'll have fun.
Whatever you do, don't let time run out for you to make memories with those you hold close.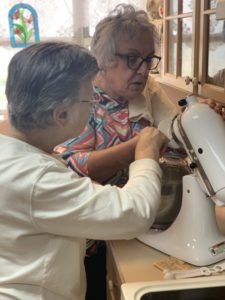 La famiglia non è una cosa importante. È tutto.