Here's another one of my go-to meals. When I make this my kids always say, "Yum!" And, I like when they're happy. I usually have a few chicken breasts lurking somewhere in the back of the freezer and I always have fresh lemons on hand. If you've got these two key ingredients, then you can pull this simple recipe together.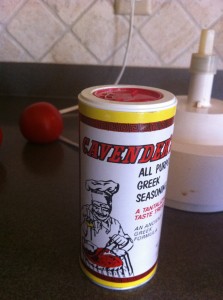 You will need:
At least four skinless, boneless chicken breasts

Butter

Seasonings: Cavender's Greek Seasoning, Salt, Pepper, Oregano, Parsley

Garlic

Freshly squeezed lemon juice

Better Than Bouillon chicken base (If you keep fresh chicken stock on hand, you can use that. I'm impressed if you do.)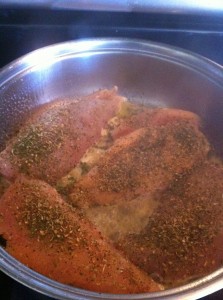 Before you get started, throw some more chicken in there because this makes great leftovers. If you're making use of the crock pot, why not?
Now brown the chicken in a large frying pan, about five minutes per side. I use a couple tablespoons of either real butter or Brummel and Brown. Whatever looks good for the amount of chicken you have.
Disclaimer: I have no idea how to write a recipe correctly. Kudos to cookbook writers. So, forgive me if I leave something out or confuse you. I thought this would be a good idea to add to my blog…I will put the absolutely unneccesary thoughts in BF italics. I feel compelled to let you know why I do certain things.
You want to get a nice brown on each side. I'm not sure why, but I just think it tastes better this way. While you're browning one side, generously season the other side with oregano, parsley, fresh pepper and Cavendar's Greek seasoning. You can pick up Cavendar's at Publix; it's a great seasoning for anything, especially for fresh salad dressing.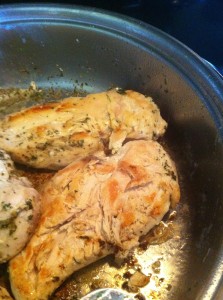 Once you've seasoned and browned both sides of the chicken, put the breasts into a crock pot or a Dutch oven. I've used both so I guess it depends on how long you have. I generally opt for the crock pot because it's easier. However, if  I'm cooking for a crowd, then I choose the Dutch oven because my crock pot isn't that big.
Come to think of it, I think I've had my crock pot for my entire marriage (that would be 22 years). I wish I could remember who bought it for me so I could share that with them.
Once the chicken is out of the pan, add some chopped garlic (about two cloves) into the pan and saute for about 30 seconds. Then add the juice from one or two freshly squeezed lemons. The amount of lemon is according to your preference and how much chicken you went with in the first place. I prefer using at least two lemons.
I have one of those lemon/orange juicers that I received as a gift at a wedding shower too. Why am I remembering this all of a sudden? Mary Carol Crisafulli bought it for me in case she ever reads this and in case I forgot to send her a thank you note. 
Next add a tablespoon or more of the Better Than Bouillon chicken flavoring and some hot water (at least a cup or two) to make your sauce. Now scrape up all the good stuff left behind in the pan from when you browned the chicken and pour it over the chicken in your crock pot. Make sure you have enough broth so that you'll have some gravy.
Let it cook on low for about 5 hours or until its done. Again, it depends on how much chicken you've used and how large your crock pot is.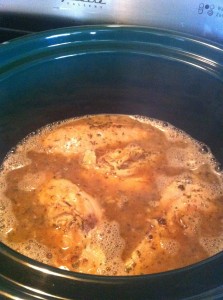 Be sure to taste the broth towards the end to make sure you've got it seasoned enough. You may need to add more salt or lemon juice. Just get it to a nice flavor that you like. I'd like to say I serve this over brown organic rice but I don't. Instant rice is what I usually have on hand. If my mom is coming over for dinner, I ask her make the mashed potatoes because she is the absolute best mashed potato maker in the family. Mine are okay, but I hate peeling them. However, it's worth the extra effort to make then just to see the glazed look my kids get in their eyes when I tell them I made mashed potatoes. They say things like, "You're the best mom ever. Let me clean my room before dinner."
I generally serve it with a salad and some freshly frozen corn (because Sophie has to have corn with mash potatoes). When dinner is over, let the kids and your husband clean the kitchen while you go take a bubble bath!
I'd love to hear about your favorite recipe in the comment section below.
Enjoy.